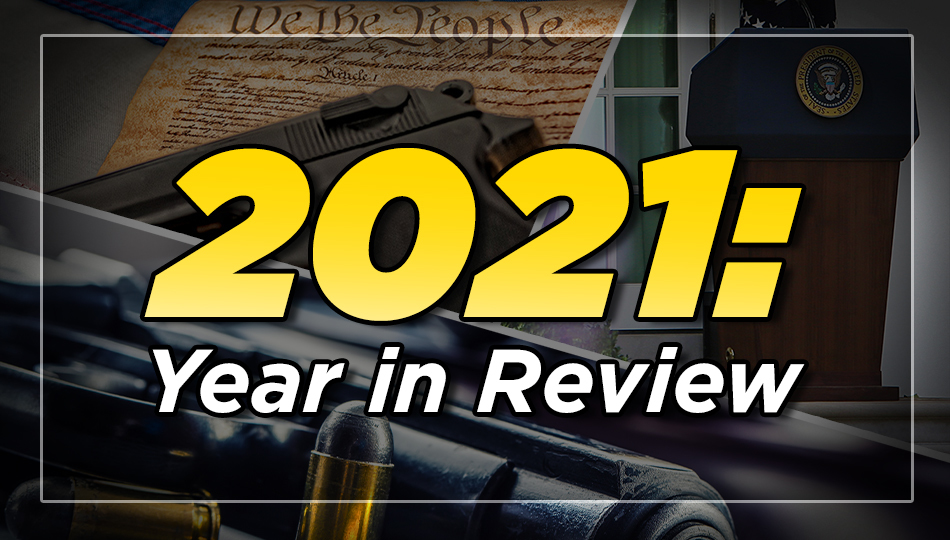 We were all thrilled when 2020 ended and most us could not wait for a new year to begin. However, we were equally disappointed when many of the hardships we faced during the previous year continued (think: what's scarier than a year of a pandemic? A second year of a pandemic). Although 2021 was far from ideal, the pro-Second Amendment community did experience a few wins that showed us things can get better with united effort. If you're trying to separate everything that happened this year from last, don't worry. Here are some of the biggest Second Amendment and self-defense stories from 2021. 
THE PANDEMIC, POLITICS, AND NEW GUN OWNERS
February 2021 was the third highest on record for National Instant Criminal Background Check System (NICS) background checks—an indicator used to estimate firearms sales—and represented a 7.2% increase in National Shooting Sports Foundation (NSSF)-adjusted NICS checks over last year. With NSSF estimating that there were over 3.2 million first-time gun buyers in the first half of this year, it's evident the effects of the pandemic, the presidential election, and civil unrest are still leaving people uncertain about what the future holds. But one thing is certain: more and more people are relying on their Second Amendment rights to protect them when they need it most.
CAN AN EXECUTIVE ORDER FROM BIDEN TAKE AWAY YOUR GUNS?

During his first 60 days or so in office, President Joe Biden had signed at least 37 executive orders. But one of his biggest goals? Executive action to control firearms. With more than one highly publicized active shooter incident already on the books during this time, the pressure for the president to take executive action against perceived gun violence intensified quickly. And unfortunately, it hasn't let up since. So, what would an executive order on firearms mean for YOU? Is Biden a risk to your Second Amendment rights? Find out… 
SECOND AMENDMENT SANCTUARIES: ARE THEY REALISTIC?

In the first half of the year, we saw a huge number of cities, towns, counties, and states declare themselves Second Amendment sanctuaries and vow not to enforce federal Second Amendment legislation that they deemed unconstitutional. Naturally, this makes one wonder—do these ordinances have any real teeth when it comes to the law? If you live in one of these areas, are you at risk? See the reality of Second Amendment sanctuary laws…
WHAT YOU NEED TO KNOW ABOUT TEXAS CONSTITUTIONAL CARRY

On September 1, the Texas Firearm Carry Act of 2021 went into effect and constitutional carry became law in the Lone Star State. Although Texas was not the first state to pass such legislation, this law (which allows eligible gun owners to carry their firearms without a permit in nonprohibited places) has spurred intense debate and "wild west" critique from many across the nation. So, what is the big deal about constitutional carry in Texas? Find out what you NEED to know…
THE ONGOING "RUST" SHOOTING INVESTIGATION
This past October, actor and producer Alec Baldwin was on the set of his upcoming movie "Rust" when a prop gun he was handling allegedly misfired, causing injury to director Joel Souza and the untimely death of cinematographer Halyna Hutchins. Many details surrounding this story remain unknown, but one question still needs an answer—who is to blame?
Not up to speed? Here are the key details…
Two people were shot while rehearsing a scene on the set of "Rust," one confirmed dead (Hutchins) and another injured (Souza). There's reportedly no footage of the incident because it was a rehearsal.
It's confirmed that Baldwin was practicing drawing the gun when it allegedly accidentally discharged a supposed blank round.
The cast and crew indicate the film's armorer, Hannah Gutierrez Reed, left three firearms outside the scene's area. The assistant director, Dave Halls, brought one to Baldwin and told him it was a prop with no live ammo.
Previous safety concerns were brought to light, including reports that protocols were ignored and multiple firearm mishaps occurred. It was also reported that some of the cast and crew previously used the same gun Baldwin fired for target practice.
Investigators believe it was a live round that killed Hutchins, and the same round injured Souza. In total, 500 live rounds were collected from the set.
An expert explained how the accident was avoidable. The Industry-Wide Labor Management Safety Committee sets rules and procedures for the use of guns on sets, some of which mirror the golden rules of firearm safety. The expert described the main rules for film sets as:

Rule #1: No live ammunition can be on set—
Rule #2: Firearms used for live fire are never brought to the set.
Rule #3: The armorer is required to keep all firearms under his or her custody and control. Crew members, actors, and those not directly working with a gun are not allowed to handle or touch them.

It seems most of these were not followed by film armorer Reed, or Baldwin in his role as producer.

Reed was reportedly absent from the location when the incident occurred due to COVID-19 regulations. As the only armorer, she was responsible for preventing any crew members from handling the weapons.
Reed should have cleared the revolver herself to ensure it was not loaded. Then, for the assistant director (Halls). Then, for the talent (Baldwin).
Only after seeing that the gun was clear should Baldwin have accepted the gunfrom her—and never, ever from anyone else.

In an interview, Baldwin said he only pointed the gun in Hutchins' direction after she instructed him to do so for a shot assessment.
No charges have been filed and investigations continue, but one industry expert noted that responsibility falls first on the armorer (Reed), then the producer (Baldwin).
SECOND AMENDMENT IN THE COURT: HOW NEW YORK COULD CHANGE CONCEALED CARRY FOR THE COUNTRY
The whole country collectively gasped when the Supreme Court of the United States agreed to take up its first major Second Amendment case in over a decade. In New York State Rifle & Pistol Association, Inc. (NYSRPA) v. Bruen, the Supreme Court will decide if New York's denial of the petitioners' applications for concealed carry licenses to carry a firearm outside the home for self-defense violated the Second Amendment. Whatever the verdict, this case is a defining moment in the history of self-defense. Discover the possible outcomes and what they mean… 
KYLE RITTENHOUSE AND THE TRIAL FOR SELF-DEFENSE RIGHTS
After a 15-day day trial and four days of deliberation by the jury, 17-year-old Kyle Rittenhouse was found not guilty on five different counts this past November. The arguments asserted by the State of Wisconsin were questionable at best, and the lack of evidence was shocking. But what exactly happened? Why was he on trial in the first place?
As brief timeline, two days after the officer-involved shooting of Jacob Blake, several protests and riots erupted in Kenosha, Wisconsin. Testimony indicated that a local business owner, wanting to protect the property, requested the help of Rittenhouse and a few others. After being separated from the group, Rittenhouse was spotted by Joseph Rosenbaum (who, unbeknownst to Rittenhouse, was a convicted sex offender and had recently been released from the mental health ward of a Milwaukee hospital). Rosenbaum pursued Rittenhouse and allegedly tried to steal his gun, an AR-15-style rifle. While accounts differ slightly, Rosenbaum threw a plastic bag at Rittenhouse before either grabbing the gun or lunging for it.  Rittenhouse shot Rosenbaum four times, killing him. He then fled as a crowd gathered, with some yelling, "Get him!" While running, Rittenhouse was hit by some of those pursuing him, stumbled, and fell to the ground. While on the ground, a man (later identified as Maurice Freeland) attempted to kick the then-17-year-old in the head. At this point, Rittenhouse fired his weapon but missed. Another man, Anthony Huber, ran in from behind and swung his skateboard at Rittenhouse. Rittenhouse fired once, fatally wounding Huber. But that's not all; a third man, Gaige Grosskreutz, was caught on camera subsequently rushing at Rittenhouse with his hands in the air—one of which held a handgun—before suddenly lowering his arm and pointing the gun at Rittenhouse, as he affirmatively testified to later on. Rittenhouse reacted by firing at Grosskreutz, hitting him in the bicep. After that, Rittenhouse was able to make it to his feet and safely flee. Footage of the events that occurred during the Kenosha unrest quickly went viral, and the rest is history…
Here's everything Kyle Rittenhouse was charged with:
Count 1: First-degree reckless homicide, use of a dangerous weapon
Count 2: First-degree recklessly endangering safety, use of a dangerous weapon
Count 3: First-degree recklessly endangering safety, use of a dangerous weapon
Count 4: First-degree intentional homicide, use of a dangerous weapon
Count 5: Attempted first-degree intentional homicide, use of a dangerous weapon
(Dismissed) Count 6: Possession of a dangerous weapon by a person under 18
(Dismissed) Count 7: Failure to comply with an emergency order from state or local government
Did you miss any of these stories over the past year? Were you shocked by some new details you didn't hear the first time? See how U.S. LawShield® can keep you informed on all things self-defense so you can stay armed, educated, and prepared in 2022.
---
The information provided in this publication is intended to provide general information to individuals and is not legal advice. The information included in this publication may not be quoted or referred to in any other publication without the prior written consent of U.S. LawShield, to be given or withheld at our discretion. The information is not a substitute for, and does not replace the advice or representation of a licensed attorney. We strive to ensure the information included in this publication is accurate and current, however, no claim is made to the accuracy of the information and we are not responsible for any consequences that may result from the use of information in this publication. The use of this publication does not create an attorney-client relationship between U.S. LawShield, any independent program attorney, and any individual.