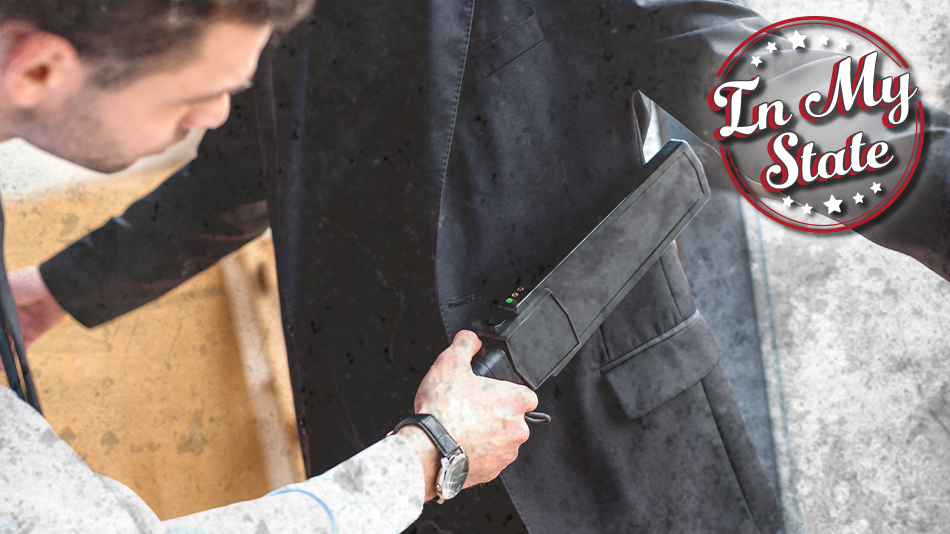 As you've no doubt seen in the news, many parts of the country are experiencing a push to ban firearms from government buildings. A significant portion of this new "outrage" is media-driven opportunism by gun control advocates. To help sort the legal facts from fiction, let's take a look at how the law plays a role in securing your rights as a law-abiding gun owner.
The Second Amendment ensures the rights of all Americans to keep and bear arms. But lawmakers have differing opinions on how that applies to the California Capitol building and other public lands.
Here's what you need to know about the past, the present, and the future of legally carrying a firearm on the grounds of California state buildings and other government properties.
Did the Events of January 6 Spark Change in California?
Unlike many states that have or are considering tightening their carry laws as a result of the events that occurred on January 6, California's carry laws for our capitol are already as tight as can be. In 1967, a group of Black Panthers who had been open carrying firearms in Oakland, challenging the police in poor neighborhoods, marched on the California Capitol grounds. Their actions were legal at the time. This led to the passage of the Mulford Act, which outlawed most open carry in California. The statute was signed by Governor Ronald Reagan, who remarked upon signing the measure that he saw "no reason why on the street today a citizen should be carrying loaded weapons."
For many years, California has generally restricted possession of firearms within state or local public buildings. Cal. Penal Code § 171b provides it is unlawful for any person to bring or possess within any state or local public building or at any meeting required to be open to the public (i.e. public commission, board and council meetings) any firearm, deadly weapon, knives with a blade length in excess of 4 inches, unauthorized tear gas weapons, tasers or stun guns, and any BB, pellet, spot marker, or paint guns. Security screening devices are set up at virtually every courthouse and government building that would detect someone trying to bring such items into a state building. This law is far-reaching, as "state or local public building" includes all buildings, or parts of buildings owned or leased by the state or local government, where state or local public employees are regularly present for the purpose of performing their official duties, or any building that contains a courtroom. An exception does exist for valid Carrying Concealed Weapons ("CCW") license holders; however, as provided below, this exception is extremely limited as to most state offices and buildings.
Pursuant to Cal. Penal Code § 171c, it is unlawful for any person to bring a firearm into the State Capitol, any legislative office, any office of the Governor or other constitutional officer, any hearing room in which any committee of the Senate or Assembly is conducting a hearing, or upon the grounds of the State Capitol. This prohibition includes the other weapons listed above and extends to ammunition and explosives. Only CCW license holders who have express permission by the Chief Sergeants at Arms of the State Assembly and the State Senate are exempt from these restrictions.
Cal. Penal Code §171d extends similar prohibitions to the grounds of the Governor's mansion, as well as the residences of all other constitutional officers and members of the legislature.  This law, however, does exempt persons with a valid CCW license.
Polling Place Restrictions
Cal. Elections Code § 18544 explicitly makes it a crime to possess a firearm at or in the immediate vicinity of a polling place. Notably, this law does not contain an exception for CCW license holders. The only exceptions are for peace officers and security officers hired by either elections officials or the property owner.
Should You Be on Alert for Changes?
There do not appear to have been any new firearms restrictions introduced in California in response to the events at the Capitol. In light of California's laws that already severely limit carrying at California government buildings and polling places, and indeed in public generally, it is difficult to imagine what form even more restrictive laws would look like. There is some hope for change, however, as Stanford law professor John J. Donohue III stated: "There is a reasonable chance that soon the U.S. Supreme Court will expand the Second Amendment by asserting there is a constitutional right to carry guns outside the home, and that this right extends to assault weapons and high-capacity magazines. If such a ruling were to be handed down, most useful existing state gun control laws would be wiped out." The Supreme Court has a 6-3 conservative majority, with several of those justices affirmatively pro-Second Amendment.
As always with California, it is best to assume that carrying firearms absent a CCW license is unlawful, and even a CCW license older must be aware of the relevant limitations applicable in different locations.
For any questions about carrying in and around government buildings, reach out to U.S. LawShield and ask to speak to your Independent Program Attorney.
---
The information provided in this publication is intended to provide general information to individuals and is not legal advice. The information included in this publication may not be quoted or referred to in any other publication without the prior written consent of U.S. LawShield, to be given or withheld at our discretion. The information is not a substitute for, and does not replace the advice or representation of a licensed attorney. We strive to ensure the information included in this publication is accurate and current, however, no claim is made to the accuracy of the information and we are not responsible for any consequences that may result from the use of information in this publication. The use of this publication does not create an attorney-client relationship between U.S. LawShield, any independent program attorney, and any individual.