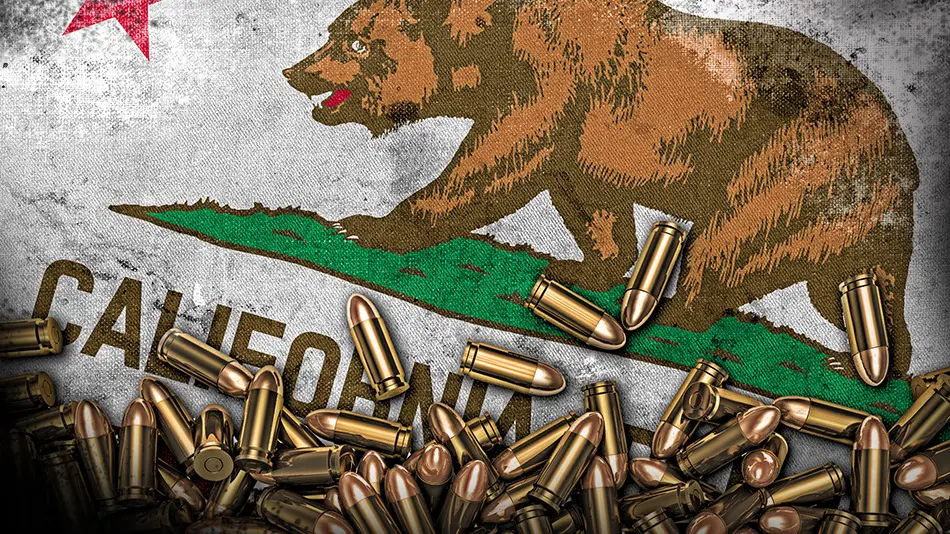 In 2016, California voters passed Proposition 63. As a result, California is now one of only a few states that closely regulate the purchase, sale, or transfer of ammunition. California laws related to ammunition sales and transfers go well beyond regulation under federal law. This article is intended to educate members about California ammo law and the additional state requirements that must be satisfied prior to purchasing and/or transferring ammunition in California.
AMMUNITION SALES IN CALIFORNIA
In California, the sale of ammunition must be conducted by or processed through a licensed ammunition vendor. Cal. Penal Code § 30312. An ammunition vendor is a natural person, or entity, that has received approval from the California Department of Justice ("DOJ") in the form of a license to sell ammunition and facilitate other transfers of ammunition. Cal. Penal Code §§ 30385, 30312. Nearly all Federal Firearms Licensed dealers in California are also licensed ammunition vendors.
A person who desires to purchase ammunition directly from a licensed vendor is required to complete the sale through a face-to-face transaction with that vendor. If ammunition is purchased over the internet or from someone located out of state, transfer of that item is treated like a firearm and must first be shipped to a licensed ammunition vendor in California to then subsequently be delivered to the purchaser. Cal. Penal Code § 30312. This also applies to California residents who wish to travel to another state to purchase ammunition. Pursuant to Cal. Penal Code § 30314, in general, a resident of the state may not bring or transport into California any ammunition that he or she purchased or otherwise obtained from outside California, unless the ammunition is first delivered to a licensed ammunition vendor for subsequent delivery to that resident. See Cal. Penal Code § 30314(b) for specific exceptions.
Also similar to the process required for a firearm transaction, a licensed ammunition vendor must first ensure that a background check is completed, and approval is obtained from the DOJ prior to selling ammunition to a private individual. Cal. Penal Code §§ 30352, 30370. Any person who is prohibited from owning or possessing a firearm is also prohibited from owning, possessing, or having under his or her custody or control, ammunition or reloaded ammunition. For example, individuals who knowingly have an outstanding warrant for or are convicted of certain specific crimes, a felony, a crime of domestic violence, or those who are addicted to a narcotic drug are prohibited under California law from possessing a firearm and, therefore, would also be prohibited from possessing ammunition. Cal. Penal Code § 29800. This is not an exhaustive list of prohibited persons, however, and members are encouraged to reach out to U.S. LawShield to speak to their Independent Program Attorney with any concerns related to a person's ability to purchase ammunition.
Additionally, an ammunition vendor is required under California law to record significant identifying information of the purchaser and submit that information to the DOJ, who will then retain those records in a database known as the Ammunition Purchase Records File. Cal. Penal Code § 30352. The information that will be recorded and preserved includes the following: (1) the date of the sale or other transfer; (2) the purchaser's or transferee's driver's license or other identification number and the state in which it was issued; (3) the brand, type, and amount of ammunition sold or otherwise transferred; (4) the purchaser's or transferee's full name and signature; (5) the name of the salesperson who processed the sale or other transaction; (6) the purchaser's or transferee's full residential address and telephone number; and (7) the purchaser's or transferee's date of birth.
PRIVATE PARTY TRANSFERS OF AMMUNITION IN CALIFORNIA
The general rules above also apply to private party transfers of ammunition. When neither party to an ammunition transfer is a licensed ammunition vendor, the seller is required to deliver the ammunition to a vendor to process the transaction. If the sale is not prohibited, the vendor then must promptly and properly deliver the ammunition to the purchaser as if the ammunition had been in the vendor's own merchandise. If the sale is prohibited, the vendor is required to return the ammunition to the seller. A vendor may charge the purchaser an administrative fee to process an ammunition transaction. Cal. Penal Code § 30312.
However, in narrow circumstances, ammunition transfers between private individuals do not need to be facilitated through a vendor. These qualifying relationships include transfers between spouses, registered domestic partners, and immediate family members. Cal. Penal Code § 30312(c)(10). An immediate family member means a parent and a child or a grandparent and a grandchild. Cal. Penal Code § 16720. Additionally, private individuals may share ammunition at a target facility holding a business or other regulatory license without the need for a vendor-facilitated transfer, provided that the ammunition is at all times kept within the facility's premises. Cal. Penal Code § 30312(c)(9). However, even if one of these exceptions applies, it always remains unlawful for a person to transfer ammunition to a prohibited person. Cal. Penal Code § 30306.
LEGAL CHALLENGES TO PROPOSITION 63
In April 2020, United States District Judge Roger Benitez issued a preliminary injunction in Rhode v. Becerra enjoining California Attorney General Xavier Becerra from implementing or enforcing the above ammunition sale/transfer requirements. However, almost immediately after Judge Benitez's ruling, the attorney general filed an emergency motion requesting a stay from the 9th Circuit, which was granted. As a result, the provisions of Proposition 63 related to ammunition sales remain enforceable and in effect. We are currently awaiting a final ruling by the 9th Circuit in this case.
If you have any further questions about California ammunition laws, call U.S. LawShield and ask to speak to your Independent Program Attorney.
---
The information provided in this publication is intended to provide general information to individuals and is not legal advice. The information included in this publication may not be quoted or referred to in any other publication without the prior written consent of U.S. LawShield, to be given or withheld at our discretion. The information is not a substitute for, and does not replace the advice or representation of a licensed attorney. We strive to ensure the information included in this publication is accurate and current, however, no claim is made to the accuracy of the information and we are not responsible for any consequences that may result from the use of information in this publication. The use of this publication does not create an attorney-client relationship between U.S. LawShield, any independent program attorney, and any individual.