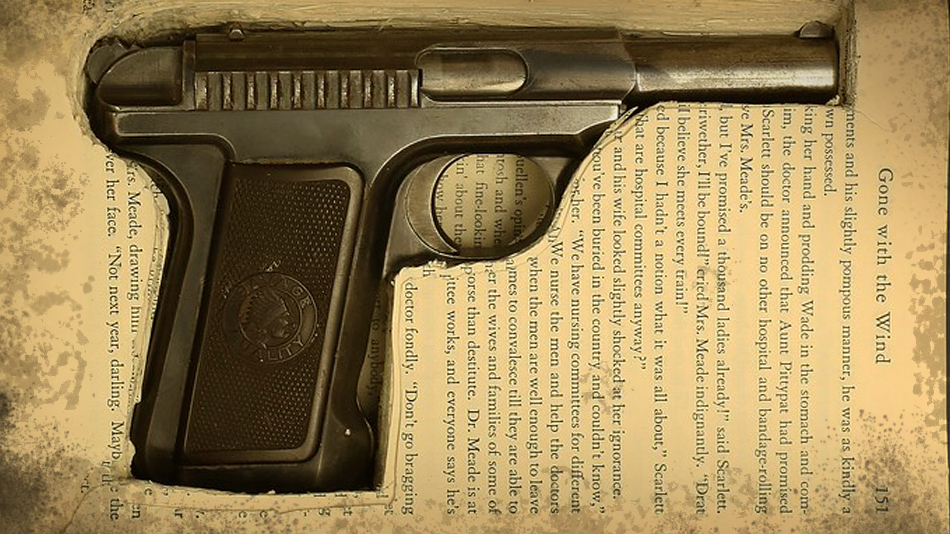 The options for how and where to store your firearms can sometimes seem overwhelming. However, there are some people who feel storing a firearm requires little to no thought. We disagree; all guns should be stored safely and in accordance with local laws at all times. But we thought you might enjoy taking a look at some of the more peculiar storage ideas we've come across. If nothing else, these suggestions can serve as an idea of what not to do (but we'll get into what you should do, too).
Gun Storage Suggestions from Businesses
Some businesses listed as firearms-friendly suggest all manner of weird places to stash your gun. Here are some of the "unique" ideas for gun storage these businesses have offered (names removed to protect the ill-informed):
Inside an empty cereal box
Hanging upside down from under a cabinet or over a door (we don't know if this one is saying to hang your gun from its trigger guard, but please don't)
Inside a fake electrical outlet
Behind a curtain on a hook
In a holster mounted to the interior side of a door in your home
In an empty pizza box jammed in between the trash can and another household item
Inside a beer stein
In the trash (this seems like a great way to accidentally throw away a gun)
On top of the fridge
In a CD wallet in your vehicle
Under a treadmill
In the padded seat of a chair (this one involves some creative cutting and sewing)
Other Odd Gun Storage Methods
Some unusual storage methods we've either seen for ourselves or heard suggested in casual conversation include:
Stuck to a giant magnet in your car or under a table
In a potted plant in your office
In the drawer of a toolbox
Loose under the mattress
Under a pillow while you're sleeping on it
Inside a sock in the dresser
Hanging from a coat rack (rifles)
Dumped in a laundry basket (rifles and shotguns)
Duct-taped underneath a desk, table, or chair
Inside a cookie jar
In the vegetable drawer of the refrigerator
Sealed in a plastic bag in the tank of a toilet
Note: Please take care to store your guns safely and legally. And remember, your vehicle is not a gun safe; if you have no other option but to temporarily store your firearm there, it should be locked in a separate safe within the vehicle.
Good Ideas for Gun Storage
Here's the good news: the storage options available for safe gun storage are practically endless. This is by no means a complete list, but here are a few options:
Under-desk, digitally locking safe (for example, SnapSafe® Drop Box® Keypad Vault)
Lengthwise under-the-bed safe (for example, SnapSafe Under Bed Safe XXL)
Stock-first under-the-bed safe (for example, Fort Knox Shotgun Security Box/Under Bed Rifle Case PB6)
Trunk safe (for example, SnapSafe Trunk Safe II with Digital Lock)
Single-handgun safe (for example, GunVault® MiniVault Biometric Gun Safe)
Upright safe (for example, Winchester® TS-36-45 Gun Safe with 5-Spoke Vault Handle)
Car safe (for example, Hornady Security®RAPiD® Safe 2700KP)
If your gun isn't locked up or secured, it should be within your control (this tends to mean it's holstered on your person). Always use proper safety measures to store your guns, and be sure to follow your local laws. If you're unfamiliar with local laws, find out. Claiming ignorance of the law is not a valid legal defense, and many areas of the country have specific nuances to the laws you'll learn only by doing your own research.
---
The information provided in this publication is intended to provide general information to individuals and is not legal advice. The information included in this publication may not be quoted or referred to in any other publication without the prior written consent of U.S. LawShield, to be given or withheld at our discretion. The information is not a substitute for, and does not replace the advice or representation of a licensed attorney. We strive to ensure the information included in this publication is accurate and current, however, no claim is made to the accuracy of the information and we are not responsible for any consequences that may result from the use of information in this publication. The use of this publication does not create an attorney-client relationship between U.S. LawShield, any independent program attorney, and any individual.