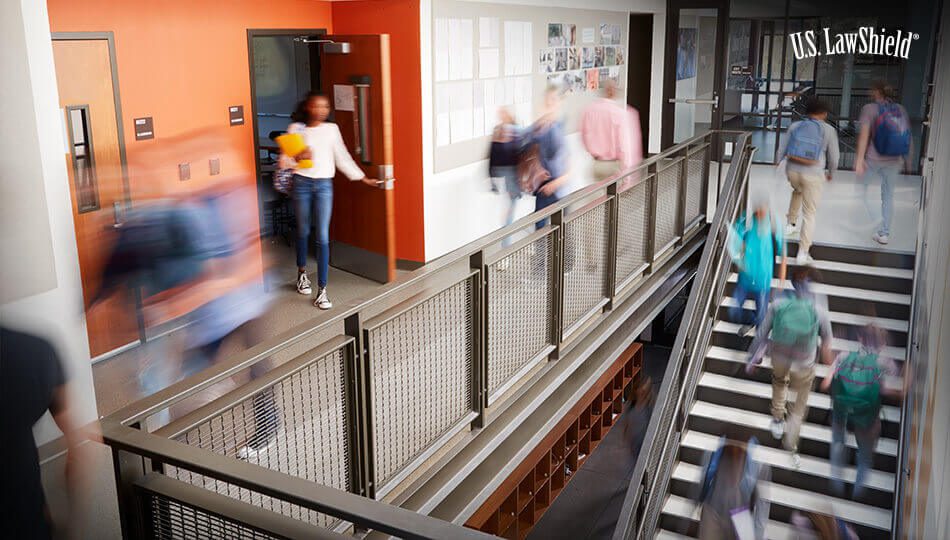 School security is a hot topic, and not without cause. While statistically rare, violence at schools against students or faculty is a reality we live with. And without school safety resources training and a general preparedness mindset, it likely won't get better. Enhancing school safety is a concern for most parents and teachers, but many don't seem to know how best to go about it.
There are professional resources and services available, so don't consider this a school security guide but rather a first step for concerned individuals to refine their concerns—perhaps for later discussions with children, faculty, and districts. (Please let us know in the comments if you found this useful, or think we missed something regarding school security, health, and safety.)
Enhancing school safety
Most facilities that educate children today have some form of internal school security protocols. School Resource Officers (SROs) are often the most visible aspect of this but are far from the only effective response to the threat of violence against students or others on campus. School security is similar to dealing with a potential threat at any other large building: The better one can secure it passively, the less likely an active threat will need to be addressed. Student identification, building access control, channeling visitors to one adequately staffed location, and the physical presence of an SRO or other physical security personnel are common recommendations of a thorough threat assessment. If there are specific concerns beyond general school security, like a student possessing drugs or weapons, then those must be addressed as well.
Training both staff and emergency services personnel is paramount. Should a school need law enforcement, both the safety and efficacy of that training will be enhanced when everyone knows where to go, what to do and what others will be doing. Communication and preparedness are keystones of school safety. The more schools focus their security around training their security plan and communicating among students, staff and security resources (like SROs or police), the more rapid and effective they should be—and the less likely it should be that anyone will have to learn what to do in the moment of an actual violent situation.
Beyond the basics, some things that may not seem obvious, like signage, can also be important. Posted fire exits, routes to them, brief explanations of security protocols, etc. can enhance overall school safety if regular training is not feasible for staff and students. Also consider programs that may require security or other threat assessment before or after school. School breakfast programs, sports assemblies or other special events will likely require something beyond the standard school security assessment, as a tool that works well in one situation may not work at all in another. For instance, controlling access to an outdoor event may require adapting an existing policy to a new environment.
You can learn how your child's school security plan compares to federal guidelines and best practices at schoolsafety.gov. If you find that your school's security is not meeting minimum standards, consider letting them know what's recommended by the government, which may lend your argument more weight.
Not a school security guide, but the start of a conversation
Again, this isn't meant to be an all-encompassing security policy, but rather a baseline on what is necessary to achieve effective security in a school environment. After you learn about every tool, policy and procedure we've discussed—and whether it's part of your child's school safety plan—you can access the government's best practices and have an informed conversation with school administrators. School safety is the duty of the school, but it's up to everyone to understand and learn best practices and to ensure that the school's security is being taken seriously.
School safety is often a difficult subject and yet a necessary one. Bringing up safety issues and methods of addressing them can only help improve the safety of schools. The more parents and educators do so, the faster and better a school's safety procedures will likely be. It's your right to ask what's being done to protect your child, as well as how your school can improve on that front—you will always be the best advocate for the safety and security of your child. Most schools are doing the best they can with the resources they have, so presenting your concerns as an offer to help may be the most effective approach. Perhaps a GoFundMe or other fundraiser to purchase cameras or other school safety equipment and training would motivate school administration faculty and parents to help. (Please let us know what you think or what has worked for you in the comments.)
School Security FAQ's
BECOME A MEMBER
Your Protection Starts Here!
Become a part of the nation's best Legal Defense for Self Defense® Program and get armed, educated, and prepared today.
BECOME A MEMBER
---
The information provided in this publication is intended to provide general information to individuals and is not legal advice. The information included in this publication may not be quoted or referred to in any other publication without the prior written consent of U.S. LawShield, to be given or withheld at our discretion. The information is not a substitute for, and does not replace the advice or representation of a licensed attorney. We strive to ensure the information included in this publication is accurate and current, however, no claim is made to the accuracy of the information and we are not responsible for any consequences that may result from the use of information in this publication. The use of this publication does not create an attorney-client relationship between U.S. LawShield, any independent program attorney, and any individual.