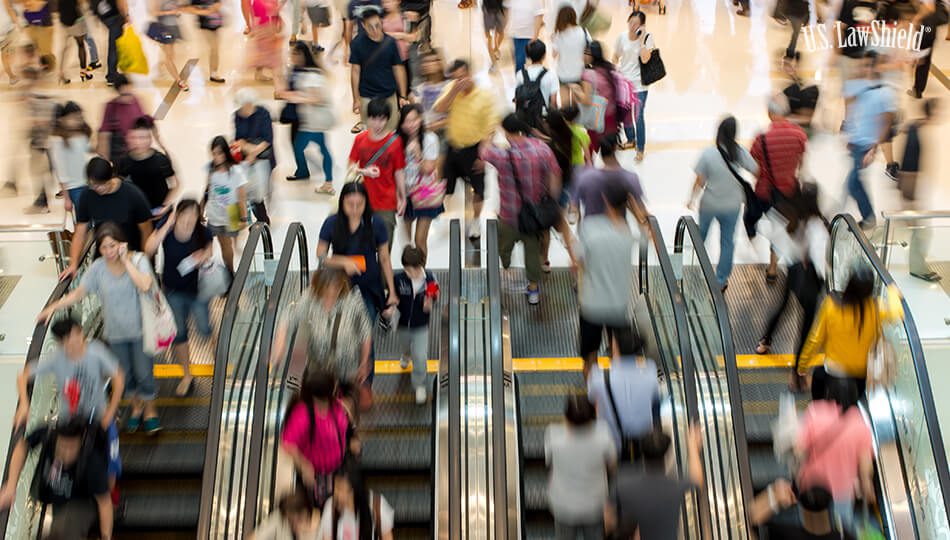 In the United States, the day after Thanksgiving, otherwise known as Black Friday, is the biggest in-person shopping day of the year. The last Saturday before Christmas, Super Saturday, is the second biggest shopping day of the year. When it comes to shopping safely, it's important to recognize there isn't always safety in numbers. It's not hard to predict there could be trouble when people looking for Black Friday and Super Saturday deals all gather in one place. Here are some general safety tips to keep in mind if you decide to venture out to hunt for a bargain. This list is by no means exhaustive but hopefully with these tips, a bit of luck, and some common sense, the worst thing you'll have to deal with during holiday shopping outings is a maxed-out credit card.
Parking lots can be dangerous
Take a moment to think about what the shopping bags you're carrying to your car might say about you. Criminals are drawn to high dollar items and certain stores have very recognizable bags. If the bag you're carrying happens to be white with a subtle depiction of the thing that you shouldn't compare to oranges on it, it isn't hard to guess you likely just bought something expensive. It isn't a bad idea to bring one large non-descript bag to put all your purchases in before you walk out into the parking lot. If that's not feasible, try to walk directly to your vehicle and get your purchases out of sight as soon as possible. The longer you keep high dollar items visible, the higher the chance someone with bad intentions might consider you an easy target.
Parking spaces and good deals aren't worth fighting over
The criminal element isn't the only danger holiday shoppers need to acknowledge. Other shoppers can pose a threat and it isn't unheard of for a disagreement over a parking space to turn into a full-blown case of road rage. The same social dynamics that lead to normal everyday people fighting to the death over a parking space are also at play when people fight over the last deal on a store shelf. It is entirely understandable that you might be frustrated if someone gets to a parking space or deal you had your eye on before you do. Think about the potential risk versus reward attached to getting into a fight with a stranger over either of those things. There is arguably no reward, and tons of risk.
The stores are packed, literally!
Crowds themselves can present their own danger. It's not uncommon to see people gathered outside a store waiting for the doors to open. A heightened security presence is all well and good and may even help deter the criminal element from victimizing shoppers. However, security guards can do little to stop a surging crowd from causing injury to someone who falls when the doors open.
Pay attention to your surroundings if you find yourself in a crowd outside a store waiting for it to open. If the people behind you tried to rush forward, could you move to safety or are there barriers in the way? Ask yourself what your plan is if the crowd becomes unruly. If you find yourself struggling to answer that question, it's a strong indicator you should move somewhere else.
Well, at least you're safe if you shop online instead?
If this all seems like too much risk for not enough reward and you decide to take advantage of some of the deals offered during online sales like Cyber Monday, you still need to be careful. If you don't keep your credit card information secure you might find yourself the victim of identity theft. When you shop online, use trusted retailers and secure internet connections. Don't do things like online shopping while you're sitting in a coffee shop using a public internet connection.
Just remember…
There's an element of risk in any public activity. If you have a fairly accurate idea of the risks involved in whatever you choose to do and take reasonable precautions to mitigate those risks, chances are you'll be fine. If you pay just a little bit of extra attention to your environment, are patient with the people around you, and remember that no deal is worth getting in a fight over, you'll be well on your way to a safer shopping experience this holiday season.
BECOME A MEMBER
Your Protection Starts Here!
Become a part of the nation's best Legal Defense for Self Defense® Program and get armed, educated, and prepared today.
BECOME A MEMBER
---
The information provided in this publication is intended to provide general information to individuals and is not legal advice. The information included in this publication may not be quoted or referred to in any other publication without the prior written consent of U.S. LawShield, to be given or withheld at our discretion. The information is not a substitute for, and does not replace the advice or representation of a licensed attorney. We strive to ensure the information included in this publication is accurate and current, however, no claim is made to the accuracy of the information and we are not responsible for any consequences that may result from the use of information in this publication. The use of this publication does not create an attorney-client relationship between U.S. LawShield, any independent program attorney, and any individual.