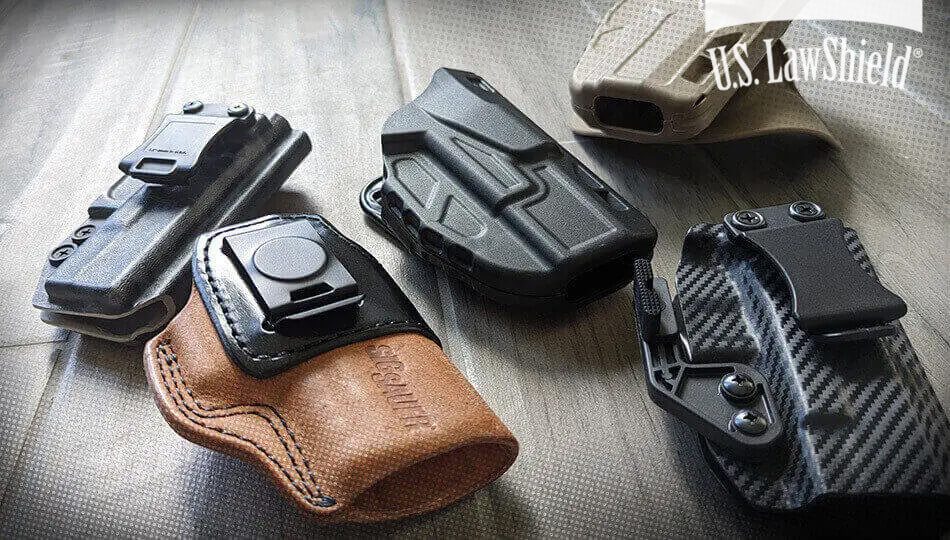 There are endless options when it comes to gun holsters for concealed carry. Even if you're a seasoned shooter, the holster scenery is constantly changing and requiring you to keep up with the latest hot—and not so hot—holsterdesigns. Whether you're wondering what types of holsters there are or how different carry methods work, we're here to help.
What are Concealed Carry Holsters?
Concealed carry holsters are holsters specifically designed to make concealing a handgun easier. They're usually IWB (Inside the Waistband) style, but they don't have to be. An OWB (Outside the Waistband) holster can be used for concealed carry with a cover garment such as a jacket, sweatshirt, or oversized shirt. It's simply easier to conceal a holster that's being worn on the inside of the waistband to begin with.
Benefits of concealed carry holsters:
Concealment (This falls under the seemingly obvious fact that concealed means concealed. No one needs to know your lawfully carried gun is there.)
Retention (Both literal and figurative. When the gun isn't readily visible, there's far less risk of someone attempting to take it from you.)
Privacy (Not drawing attention or notice from unwanted people.)
What Holster Types are There?
Broadly, there are two gun holster types: holsters designed for open carry or concealed carry. Of course, there are far more specific details to holsters than that. For example, there are a lot of different carry methods which are also used to describe holsters, including:
AIWB holster (Appendix Inside the Waistband)
IWB holster (Inside the Waistband)
OWB holster (Outside the Waistband)
Shoulder holster
Belly Band holsters
Ankle holster
Drop Leg holster
Pocket holster
Off-Body (such as purse carry or fanny pack)
When it comes to the holster designs themselves, there are practically endless holster styles on the market. A holster can be made from various materials with these being the most common:
Leather holster
Kydex® holster (molded thermoplastic)
Hybrid holster (Kydex® shell with a leather back)
Nylon holster
Whatever holster you decide to use for your firearm, it needs to be routinely inspected for wear and tear. Leathercan lose its shape, a hybrid holster is prone to cracking and separation of the two panels, and thermoplastic like a Kydex® holster has to be watched for obvious stress points where the holster could break. As for nylon, getting a holster made from nylon tends to go against the idea of the holster securely holding and retaining your firearm.
What are the Best Gun Holsters?
Choosing the best possible holster for your gun involves various factors. First, you need to decide whether you're carrying concealed or openly. Second, choose the style and material. Even then, all holsters aren't made equally, and all gun owners don't have identical preferences for holsters. A holster that works for your friend or significant other may not work at all for you, even when you're using the same model of gun. Body shapes and sizes differ.
There are certain things you should expect from any gun holsters, though:
Trigger guard coverage. The trigger should be completely covered and protected from outside interference while holstered.
The holster should be formed to the model of gun, not a pocket the gun can simply fall out of.
Mouth remains open even when the gun is drawn. Holster mouths that collapse or fold over when the gun is drawn aren't safe for many reasons including the fact they force the wearer to use their off hand or the muzzle of the gun to pry it open for holstering, both of which violate the

four safety rules

.
Durability and resistance to wear. Some holsters are more prone than others to cracks, breaks, and otherwise being unsafe for use than others.
Yes, holsters can be comfortable. Pairing them with the correct sturdy gun belt helps that quite a bit while also improving concealment, retention, and overall safety.
Is a Front Pocket Holster Good?
Carrying a gun in your front pocket has pros and cons. The biggest pro to carrying firearms in your front pocket is that it makes deep concealment possible (assuming your pockets are large enough). This method is usually reserved for compact or subcompact firearms which are often called BUGs—Backup Guns—such as the Ruger LCP II, Glock G42, or the reasonably compact SIG Sauer P365. Although it isn't ideal for retention or draw time, it can be done safely. A proper front pocket holster that's made for the task will either fill and fit the pocket or have an exterior surface made of material that grips the fabric. The holster should also be made for the model of gun you're carrying in your pocket for as much retention as possible.
What are Shoulder Holsters?
Shoulder holsters are holsters made with straps that go over the wearer's shoulders. They may have a holster on one side only or a holster at each side so two guns can be carried. Some styles have magazine holsters included so the wearer can carry a spare magazine with them. A shoulder holster can be used for open carry or concealed carry; you can conceal a shoulder holster with a cover garment such as a jacket.
Which Concealed Carry Holster Should I Get?
Carry holsters come in all shapes and sizes and it tends to take some trial and error to find the right holster for your firearm. In fact, most people who have guns for self-defense also have a box of discarded handgun holsters in a closet somewhere in their house. When you add a holster to the box, just make sure you somehow mark each holster so you know what model of gun it's for. After all, you can't carry a Beretta in a holster meant for a firearm like a Glock, or a semi-automatic Taurus into a revolver holster.
Other things to keep in mind when selecting a holster are whether the manufacturer makes a model compatible with a weapon mounted light—if you have a light—or laser. Also consider if you want a custom holster instead of a mass-produced holster. A custom leather holster design can be more comfortable and simply be counted on as reliable gear. The price is higher but try to keep in mind that a lower price on a holster isn't necessarily a good thing.
Getting the right carry holster takes time but it's worth it so your concealed carry is done well. If you have multiple pistols, don't worry; start with the firearm you intend to use as your EDC (Everyday Carry) and go from there. There are a lot of holster options. Whether you're looking for a concealed carry holster, IWB holster for open carry, or a modular belly band holster, it's just a matter of finding the right holster for you.
BECOME A MEMBER
Your Protection Starts Here!
Become a part of the nation's best Legal Defense for Self Defense® Program and get armed, educated, and prepared today.
BECOME A MEMBER
---
The information provided in this publication is intended to provide general information to individuals and is not legal advice. The information included in this publication may not be quoted or referred to in any other publication without the prior written consent of U.S. LawShield, to be given or withheld at our discretion. The information is not a substitute for, and does not replace the advice or representation of a licensed attorney. We strive to ensure the information included in this publication is accurate and current, however, no claim is made to the accuracy of the information and we are not responsible for any consequences that may result from the use of information in this publication. The use of this publication does not create an attorney-client relationship between U.S. LawShield, any independent program attorney, and any individual.