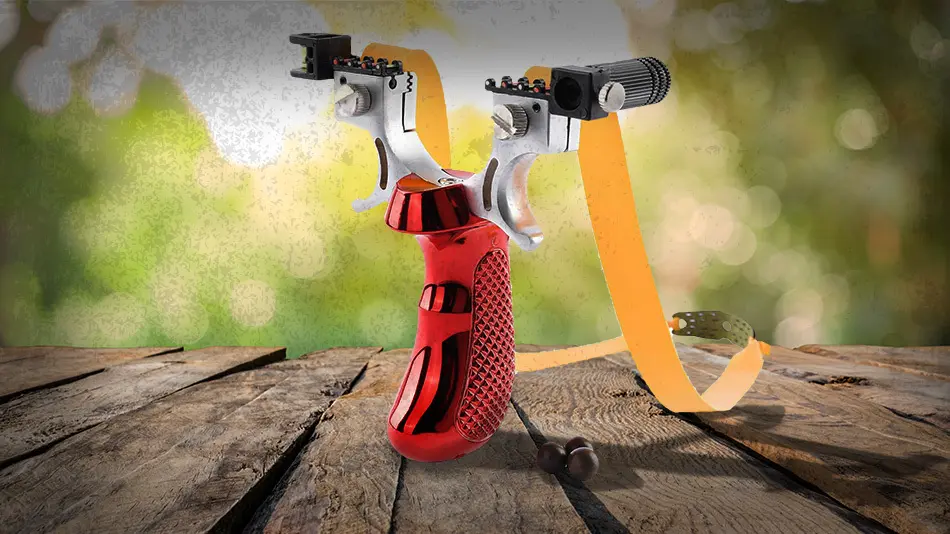 Tactical Slingshots
The slingshot has undergone radical improvement over the years from the days of a forked tree branch and some rubber bands to more technically advanced tactical models capable of serious damage. Some models are even used for hunting.
Modern tactical slingshots utilize ergonomic design and high-tension elastic materials to deliver high velocity and maximum force at impact with the target.
Check out these tactical slingshots that won't break the bank.
The Power of a Slingshot vs. a Handgun
More recently, the slingshot has undergone technological advancement to the point that it can be considered a serious, tactical weapon, beyond merely a use for hunting small game. The modern tactical slingshot is military grade and capable of providing self-defense with an almost endless supply of available ammo.
Compared to the ballistic characteristics of a handgun, a tactical slingshot is surprisingly powerful, and in some case, more powerful.
To test the force of a slingshot compared to a gun, a slingshot was put to the test against five different calibers of handgun ammunition—the .22, 9mm, 357 SIG, the .45ACP, and the .44 Magnum. The test was simple—measure the impact of a slingshot launching a 1" steel ball compared to that of the various rounds of ammunition fired from a handgun.
To see the video results of this test, click here.
The test results may surprise you. The slingshot outperformed all ammunition with the exception of the .44 Magnum. Of course, the slingshot used in this video is not one that a person would carry around for self-defense, but it is an example of what a powerful tool the right one can be.
Are Tactical Slingshots Legal?
Not all slingshots are created equal, and therefore, not all slingshots are legal in every state.
In New York, for example, slingshots with a wrist-brace are illegal under § 265.01 of the New York Penal Code. Possession this style slingshot (often referred to as a "wrist-rocket") is a misdemeanor, regardless of its intended use.
In New Jersey, slingshots are considered per se dangerous weapons. Title 2c - The New Jersey Code Of Criminal Justice Section 2C:39-3(e) makes possession of any type of slingshot without "any explainable lawful purpose" a felony of the fourth degree. What non-weapon, lawful use is not explained in the statute and is up to the judge.
The following are some states and cities make possession of a wrist-rocket illegal:
Massachusetts
Duluth, Minnesota
Louis, Missouri
New Jersey
New York
Columbus, Ohio
Philadelphia, Pennsylvania
Rhode Island
Charleston, South Carolina
Knoxville & Johnson City, Tennessee
Salt Lake County, Utah
Falls Church, Virginia
Madison, Wisconsin
There may be other municipalities that ban possession of these devices, so it is important you check with local authorities before acquiring a slingshot with a wrist-brace.
Are Tactical Slingshots Legal For Hunting?
Tactical slingshots are suitable for hunting small game, but their use may be regulated by state and local laws. Some states permit their use in hunting small game and birds or non-game or unprotected species only.
Florida, for example, permits hunting non-game animals and furbearers only. Some states, such as Pennsylvania, Georgia, and Texas, to name a few, do not permit hunting with slingshots at all.
Currently, 32 states permit hunting with slingshots in some capacity. For a summary of the laws in all 50 states, click here.
BECOME A MEMBER
Your Protection Starts Here!
There's nothing more important than protecting yourself and your family. By joining our community of members, you can count on our self-defense coverage, with meaningful options and benefits that make a real difference.
BECOME A MEMBER
---
The information provided in this publication is intended to provide general information to individuals and is not legal advice. The information included in this publication may not be quoted or referred to in any other publication without the prior written consent of U.S. LawShield, to be given or withheld at our discretion. The information is not a substitute for, and does not replace the advice or representation of a licensed attorney. We strive to ensure the information included in this publication is accurate and current, however, no claim is made to the accuracy of the information and we are not responsible for any consequences that may result from the use of information in this publication. The use of this publication does not create an attorney-client relationship between U.S. LawShield, any independent program attorney, and any individual.