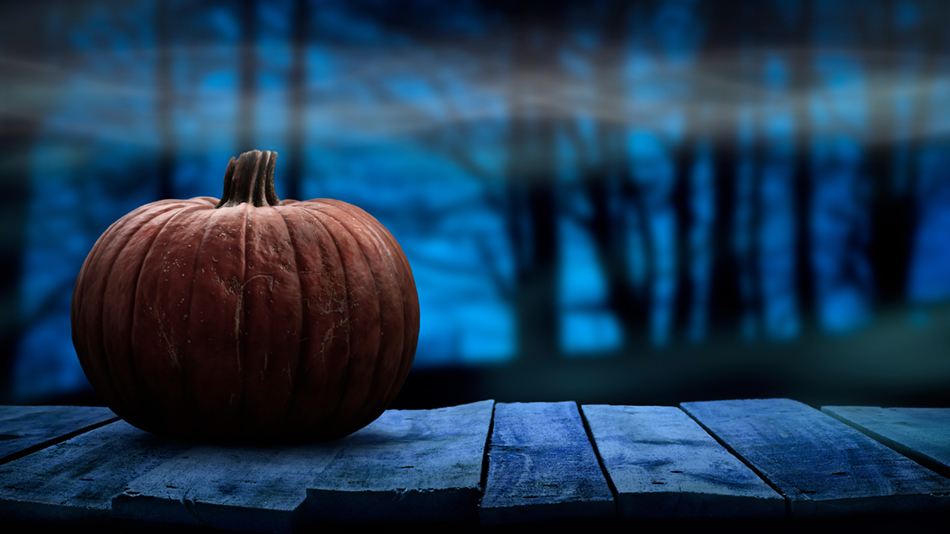 Halloween: the holiday where spooky is expected and the creepier things are, the better. But if you think your only fear should be running out of candy too early, you need to think again. Between watching "Hocus Pocus" while carving pumpkins and eating our weight in bite-size chocolates, it's easy to forget the importance of Halloween safety. Could October 31st truly be scarier than any other time of year? Is Halloween safety really that big of a deal? Well, it's not just ghosts and goblins that go bump in the night…
Halloween's Monster Crime Stats
Over the last two decades, Halloween has consistently been one of the deadliest nights of the year. But why? Well, Halloween is basically the unofficial "national go outside day" for kids, and 70% of parents let their children go trick-or-treating without them. Pair this with incidents that occur on a daily basis (drinking and driving, property crimes, etc.) and you end up with some scary statistics:
You're not paranoid if you have some fears around Halloween that aren't related to horror movies or creepy costumes; those numbers are pretty scary! So, how important is Halloween safety? Extremely. Here's how you can make sure you have a safe Halloween night—one that's full of treats instead of dangerous tricks.
Trick-or-Treat Safety
Whether you're hosting a spooky costume party or preparing to go trick-or-treating with your family, U.S. LawShield® wants you to be prepared and responsible. Make sure your night is trick-free with the following crucial Halloween night safety tips.
Halloween Safety Tips for Kids
Adult Supervision – All children aged 13 and under should be accompanied by an adult when trick-or-treating. Older kids without an adult should be in groups of three or more.
Create a Route – Only trick-or-treat in familiar neighborhoods and at houses with porch lights on. Be aware of and avoid the addresses of local sex offenders.
Street Smart – Walk only on sidewalks, and cross streets only at crosswalks or corners. Make eye contact with drivers before crossing to help prevent accidents. Take extra caution with costume masks, as they greatly reduce a child's ability to see their surroundings.
High Visibility – Carry glow sticks or flashlights when out after dark, and avoid wearing costumes that are dark-colored or aren't reflective.
Treat Smart – Check your kids' candy! The CDC Halloween Safety Guide highly recommends throwing away any unwrapped or unsealed pieces.
Gun Owner's Halloween Safety Tip: It's not the smartest idea to include weapons—toys or otherwise—in costumes. On a night when violent crime is up and tons of people are wearing spooky costumes, it's best to leave weapons where they belong—with their responsible owners.
Halloween Safety Tips for Adults
Drive Carefully – Drive slowly and watch for people crossing the street. Avoid distractions like phones or food so you can be ready to stop quickly. (But it's best to just avoid driving after dark on Halloween if you can.)
Clear the Way – Clear your front steps, driveway, and lawn of any potential safety hazards. If any injuries happen on your property, you could be held liable!
Leave a Light On – If you leave the house, keep a few visible lights on inside to discourage criminals. However, leave your porch light off to let trick-or-treaters know you aren't giving out candy!
Verify Insurance – Are you turning your home into a neighborhood haunted house? Are you charging admission? Make sure to check your local laws and verify your homeowners insurance coverage! Something like this could be considered a business activity, and accidents or injuries typically are not covered. (You should also verify your self-defense insurance coverage!)
Go Flameless – Use electric lights in your jack-o-lanterns and other décor. House fires are one of

the more common accidents

reported by homeowners on Halloween.
Gun Owner's Halloween Safety Tip: If you want to carry while trick-or-treating with your kids, it would be wise to carry concealed. If you're handing out candy at home, your guns should be stored safely (either out of sight and reach of children, or holstered). As always, make sure you follow state and federal law!
Halloween Safety Tips for Pets
Safely Confine – The sights, sounds, and numerous visitors on Halloween can be overwhelming for pets. This can cause them to act aggressively or even run away.
No Candy – Keep the spooky decorations and yummy candy out of reach. If you didn't already know, chocolate can be lethal to pets!
Supervised Costumes – Despite what you might see on the internet, pets don't typically like to be dressed in Halloween costumes. If left unsupervised, they could end up hurting themselves or someone else, or even escape and get lost.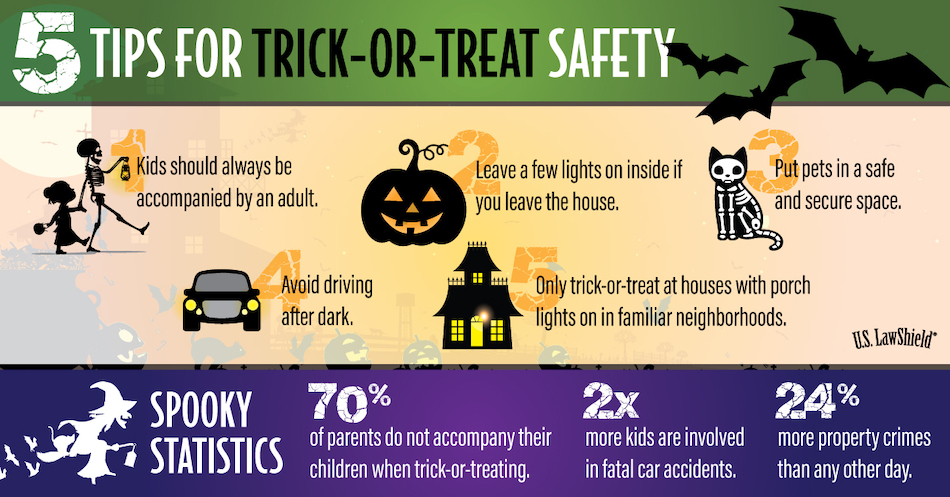 What Is Situational Awareness?
There's nothing wrong with a good scare on Halloween, but you shouldn't have to fear for your safety or your children's. One of the best things you can do to help ensure you aren't the victim of a crime on Halloween is to be situationally aware. What is situational awareness? It's the practice of being observant of your environment and the activities going on around you. It means being aware of the groups trick-or-treating near yours. It means paying attention to who's serving you drinks at the costume party or how the drivers around you are driving. Situational awareness for a gun owner means always knowing where your firearm is and regularly checking to see if it's still secured.
Being safe on Halloween is crucial. So, pay attention to your surroundings and you'll be on the way to a safer Halloween night.
How to Have a Safe Halloween: Prepare for the Worst
Are these Halloween safety tips enough to prevent you and your family from becoming a statistic? Not exactly. While taking charge of your own safety and deciding you don't want to become a victim IS the essential first step of your self-preparedness journey, you need to be prepared for all that could happen before, during, and after a life-threatening situation.
This means staying educated and informed not only on what self-defense rights you have during Halloween activities, but also on what rights you don't have. It also means having proper self-defense training and knowing how to avoid altercations whenever possible, especially on dangerous nights. After all, an educated self-defender is a responsible self-defender!
Luckily, the only thing U.S. LawShield is more dedicated to than making sure your rights and freedoms are protected is making sure you remain responsible. If you'd prefer a safe Halloween filled with spooky fun over one filled with real-life monsters and dangers, check out how to make the nation's best Legal Defense for Self Defense® program part of your holiday preparations today.
---
The information provided in this publication is intended to provide general information to individuals and is not legal advice. The information included in this publication may not be quoted or referred to in any other publication without the prior written consent of U.S. LawShield, to be given or withheld at our discretion. The information is not a substitute for, and does not replace the advice or representation of a licensed attorney. We strive to ensure the information included in this publication is accurate and current, however, no claim is made to the accuracy of the information and we are not responsible for any consequences that may result from the use of information in this publication. The use of this publication does not create an attorney-client relationship between U.S. LawShield, any independent program attorney, and any individual.