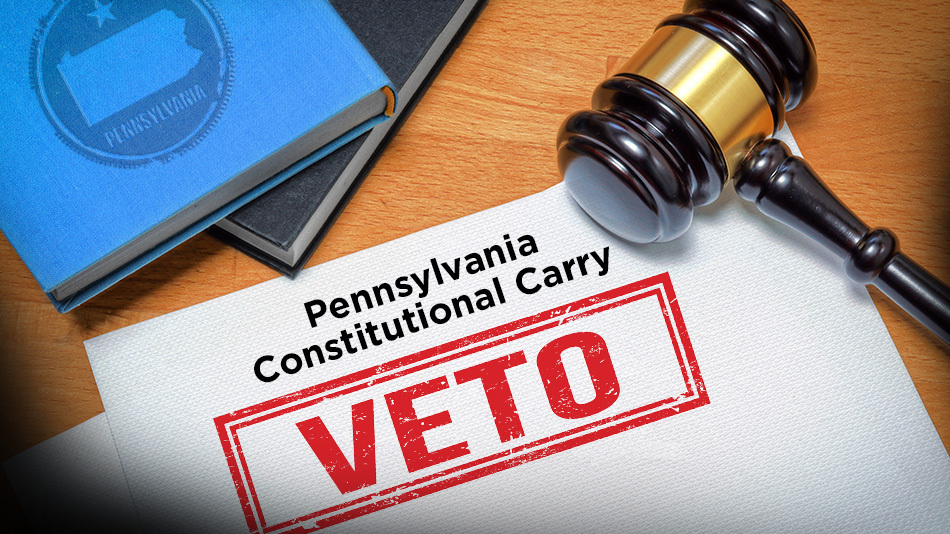 On December 2, 2021, Governor Tom Wolf vetoed Senate Bill 565, which would have provided constitutional carry for Pennsylvania. While unfortunate, this veto came as no surprise to Pennsylvania gun owners.  Governor Wolf has a long history of restricting gun rights in the Keystone State. Wolf previously vowed that if constitutional carry legislation reached his desk, he would do everything in his power to ensure it never became the law by utilizing his power to veto the bill.
Constitutional Carry in Pennsylvania
However, the fact that constitutional carry passed both the House and Senate in Pennsylvania should be seen as a big win for gun owners. While a bill passing the House and Senate alone effects no change of law in Pennsylvania, we did get the opportunity to see how various elected officials would vote on this important gun rights issue. And therein lies the real political value, and perhaps even the goal of those who pushed this legislation forward knowing that a veto was almost inevitable: now voters are able to see how much respect for gun rights their elected officials have. With elections for both the House and Senate approaching, how officials voted on Senate Bill 565 provides important insight into how they might vote on future gun rights issues, and even future attempts to pass constitutional carry.
Why Did the Governor Veto Pennsylvania Constitutional Carry?
While Governor Wolf proclaimed in a letter accompanying his veto that constitutional carry would jeopardize the safety of Pennsylvanians, the truth is that it would not allow prohibited persons to carry firearms. Instead, if it had passed, Senate Bill 565 would remove the ability of local issuing authorities to hamper the exercise of the fundamental right to keep and bear arms. While many jurisdictions are responsive and helpful to those wishing to obtain a Pennsylvania License to Carry Firearms ("LTCF"), some localities seem intent on obstructing those who wish to exercise their 2A rights. If anything, the COVID-19 pandemic exacerbated problems in jurisdictions that had historically already made it more difficult to obtain an LTCF. Things got so bad during the pandemic that lawsuits were filed in some areas to force issuance of LTCFs to deserving applicants. Constitutional carry legislation, if passed, would prevent this type of disparity between gun-friendly and non-gun-friendly jurisdictions.
What Is the Future of Constitutional Carry in Pennsylvania?
While it didn't pass during this legislative session, constitutional carry can and should remain a priority for the Pennsylvania Legislature. And don't forget that Pennsylvania will have the opportunity to elect a new governor next year. Find out how your elected representatives voted on this now-vetoed attempt—and remember how they voted when you show up to the ballot box in future elections!
---
The information provided in this publication is intended to provide general information to individuals and is not legal advice. The information included in this publication may not be quoted or referred to in any other publication without the prior written consent of U.S. LawShield, to be given or withheld at our discretion. The information is not a substitute for, and does not replace the advice or representation of a licensed attorney. We strive to ensure the information included in this publication is accurate and current, however, no claim is made to the accuracy of the information and we are not responsible for any consequences that may result from the use of information in this publication. The use of this publication does not create an attorney-client relationship between U.S. LawShield, any independent program attorney, and any individual.