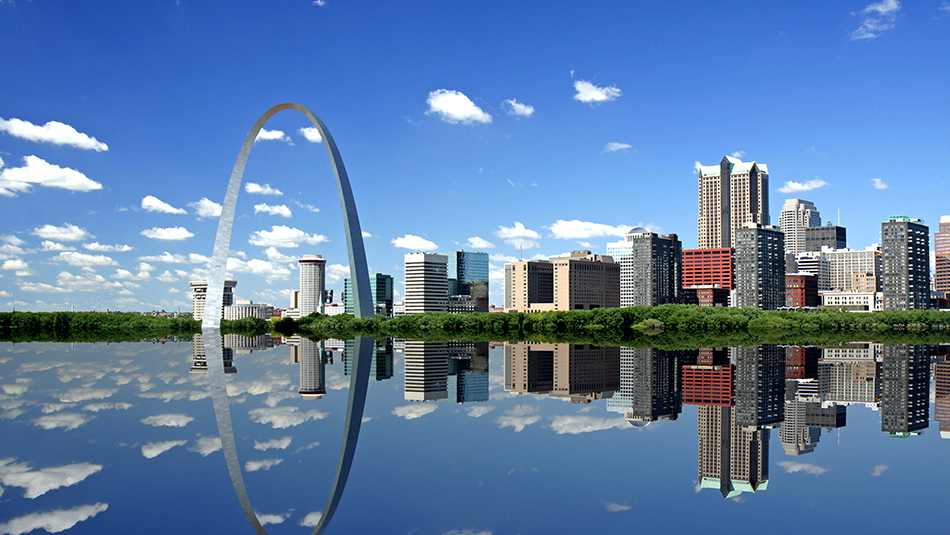 Big cities have their pros and cons. You may find a better night at the theater and better professional sports in St. Louis, but your self-defense rights may come under greater scrutiny. Fortunately, throughout Missouri, state law allows you to legally defend yourself if your circumstances justify the use of force. Cities, counties, and municipalities have some differences in how they apply state law, and local prosecutors and judges interpret and implement the law, which may affect your rights. There are also differences in local ordinances.
Missouri state law allows the open carry of firearms, however, municipalities such as the city of St. Louis may enact ordinances that prohibit open carry within their city limits. The exception is that if you are a Missouri concealed carry permit holder ("CCW"), you are allowed under state law to open carry even in cities which prohibit the open carry of firearms. CCW holders' state open carry rights preempt local ordinances. St. Louis is one of those cities that prohibits open carry. Be warned however: although it is legal for a CCW holder to openly carry a firearm, it is not advisable in major metropolitan areas and may lead to interaction with law enforcement.
Prohibited Areas
Although firearm law is supposed to be consistent across the state in Missouri, some cities like St. Louis have found ways to limit gun owners' rights. Visiting a park while in St. Louis? Leave your gun at home. St. Louis has designated parks as "childcare centers," making them prohibited places for the carry of firearms. Further, the St. Louis Zoo has similarly been designated as an "educational facility," making it a prohibited place for firearms.
Many people visiting St. Louis head to the St. Louis Gateway Arch. The Arch grounds are not a "city park." In fact, they are federal property. The federal government does not prohibit carry in this national park area except in buildings or as otherwise posted. Federal law prohibits firearms in buildings located on federal government property, including those in this park. Prohibited places are marked with signs at all public entrances. Prohibited facilities include the Arch Visitor Center, the Old Courthouse, and all maintenance facilities. Otherwise, state and local laws apply to firearm carry as they would elsewhere in the city. CCW holders do not have any expanded rights on federal property.
Sports Areas
St. Louis is the home of several professional sports teams including the MLB's St. Louis Cardinals and the XFL's BattleHawks. If your visit to St. Louis includes professional sports, Busch Stadium, home of the Cardinals, is off-limits to firearms, as is the Enterprise Center, the home of the St. Louis Blues, and The Dome, where you can see a BattleHawks game. Are college sports more your thing? Missouri considers college sports to be an educational activity; therefore, firearms are strictly prohibited at college games.
Bars and Restaurants
Bars and restaurants making more than 50% of their revenue from the sale of alcohol are off-limits to firearms, absent any special exceptions. Further, watch for signage prohibiting firearms on all private property and at any private businesses, including bars or restaurants, as state law prohibits the carry of firearms on private property where proper signage is posted.
Big cities like St. Louis tend to be less gun-friendly and increasingly restrictive in their interpretation of state statutes. Enjoy what the city has to offer, but make sure you know and understand the environment you are in when it comes to firearm carry and firearm use. It may save you a long legal fight.
If you have any questions about carrying your firearm in St. Louis or anywhere in Missouri, please call U.S. LawShield and ask to speak with your Independent Program Attorney.
---
The preceding should not be construed as legal advice nor the creation of an attorney-client relationship. This is not an endorsement or solicitation for any service. Your situation may be different, so please contact your attorney regarding your specific circumstances. Because the laws, judges, juries, and prosecutors vary from location to location, similar or even identical facts and circumstances to those described in this presentation may result in significantly different legal outcomes. This presentation is by no means a guarantee or promise of any particular legal outcome, positive, negative, or otherwise.