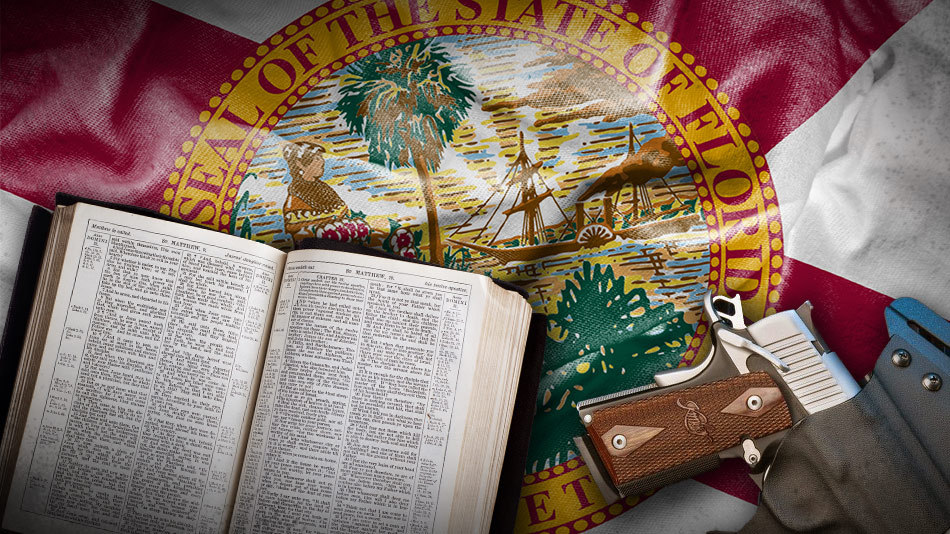 Floridians with a Concealed Weapon and Firearm License (CWFL) no longer need to consider whether a religious institution either 1) operates a school on the property where services are held, or 2) holds services on rented or leased school property. Under the previous Florida concealed carry law, a CWFL holder could not carry a firearm onto the property of any school. Therefore, even those who held a valid Florida concealed carry license could not lawfully carry their firearms with them while they attended religious services, and they were essentially defenseless against attack if their place of worship had a school of its own on the same property, or if the services were held on rented or leased property belonging to a school. Further, religious organizations that wanted to provide security to parishioners were required to hire licensed security guards for protection if there was a school using the property where services were held. The restrictions applied even if school was not in session as CWFL holders were not authorized to carry firearms onto the property of any school, even with the express permission of the religious institution.
On June 30, 2021, that all changed with the stroke of a pen when Florida Governor Ron DeSantis signed House Bill 259, known as the Church Carry Bill into law. The new law became effective immediately upon signing. House Bill 259 amended Florida Statute § 790.06 by adding subsection (13). This new subsection now allows a CWFL holder to carry a concealed weapon or firearm onto the property of a religious institution for the expressed purposes of safety, security, personal protection, or any other lawful purpose. Other lawful purposes can include self-defense, the defense of loved ones, and the defense of anyone else present when a deadly threat arises on the institution's property, whether or not it occurs during services.
The new statute section allows a CWFL holder to carry not just onto property owned by a religious institution but also onto any property rented, leased, borrowed, or lawfully used by a church, synagogue, or other religious institution. This includes any instance when the property owned, rented, leased, borrowed, or lawfully used by the religious institution has a school located on it. The allowance applies regardless of whether the school is in session or not. Further, the allowance of firearms on property owned, rented, leased, borrowed, or lawfully used by a church, synagogue, or other religious institution applies to any property owned, rented, leased, borrowed, or lawfully used by the institution regardless of whether the property is ever or has ever been used to conduct religious services.
However, it is important to note that the statute does specifically allow for the religious institution to exercise its private property rights. This means that a religious institution can prevent firearms or weapons from being carried onto their property, even by those who possess a CWFL, provided that actual notice is given to those entering the property. Early versions of the bill allowed the religious institution to post signs on its property prohibiting the carrying of firearms onto the property. However, the final version of the bill that was signed into law does not contain this language. Had that language been included in the law, it would have been the first time that Florida law recognized the legal sufficiency of a sign to provide notice that firearms were not allowed on a property. As signed into law, any religious institution that wishes to prohibit those with a CWFL from carrying a concealed firearm onto their property will have to give each individual actual notice that they are prohibited from carrying a firearm onto the premises. CWFL holders are not required to ask or in any way seek permission prior to carrying their firearms concealed on their person onto the property of any religious organization in the state.
The new law goes a long way in allowing Floridians the right to defend themselves and their loved ones when attending religious services. Those wishing to do harm will have to think twice now that Florida's religious organizations with schools on the property are no longer "Gun-Free School Zones."
---
The information provided in this publication is intended to provide general information to individuals and is not legal advice. The information included in this publication may not be quoted or referred to in any other publication without the prior written consent of U.S. LawShield, to be given or withheld at our discretion. The information is not a substitute for, and does not replace the advice or representation of a licensed attorney. We strive to ensure the information included in this publication is accurate and current, however, no claim is made to the accuracy of the information and we are not responsible for any consequences that may result from the use of information in this publication. The use of this publication does not create an attorney-client relationship between U.S. LawShield, any independent program attorney, and any individual.