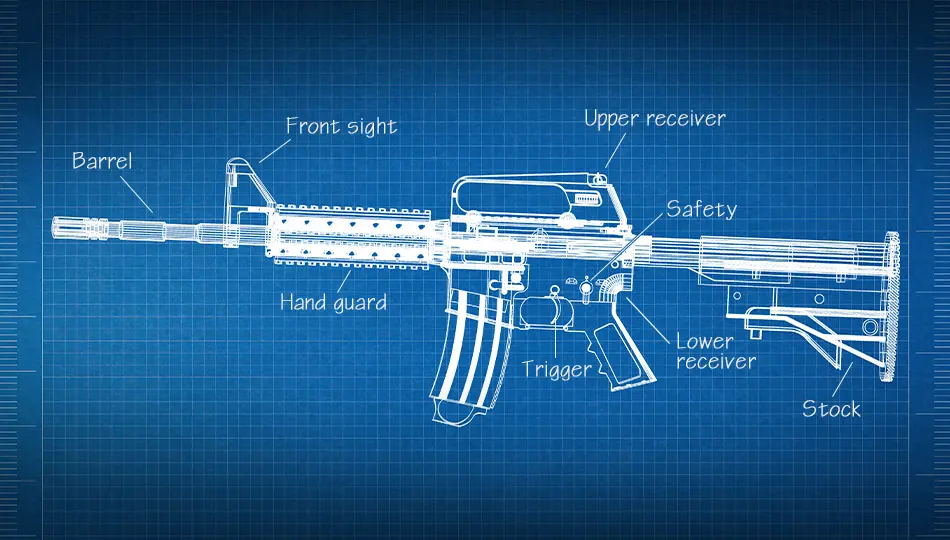 Building AR-15s is often referred to as "Legos® for adults," and while the general fit-and-create concept applies, there's a lot more to successfully putting together a reliable firearm than making a Lego tower. When you realize how many parts it takes to build an AR-15—about 65 to 100, depending on configuration—it might seem overwhelming. Consider this your one-stop read to find out what individual components are necessary to build an AR-15.
What Are the Main Parts of an AR-15?
You can break an AR-15 down into its two largest parts, the upper and lower receivers. A complete upper receiver includes the receiver itself, bolt carrier group, handguard, and barrel. Of course, there's more to it than that; a complete upper receiver has numerous small parts to make the larger pieces work. A stripped upper receiver requires you to install every tiny part.
A lower receiver includes the receiver itself, stock, buffer tube and buffer spring, trigger, safety, and other small parts. It can also be purchased as a complete or stripped lower receiver.
When you clean an AR-15, you separate the two receivers by pushing the takedown pins free so the parts are no longer locked together. You then remove the bolt carrier group from the upper and the buffer weight and spring from the lower to begin cleaning and lubricating your gun.
What Is Needed to Build an AR-15?
Although some people will say you can build an AR-15 with standard wrenches and hammers—which is technically correct—it's not a good idea. Using the wrong tools to build an AR-15 results in damage to the components, bent pins, and other problems that can stop it from functioning correctly. Aesthetically, it also creates a mess of scratches and dings on what should be your brand-new, pristine gun.
Tools to consider getting before you start the building process:
Bench vise
Magazine well vise block
Reaction or upper receiver rod/barrel rod
AR-15 torque wrench, 30 lbs to 150 lbs (proper torque matters)
Armorer's wrench (check to see if the parts you're using require a specific, proprietary AR-15 armorer's wrench)
Complete punch set (preferably one that includes brass and plastic punches in addition to steel)
Non-marring brass/nylon hammer
Hex wrench set
Torx bit set and handle
Needle-nosed pliers
Tools that are also nice to consider adding to your collection:
Gunsmith screwdriver set with magnetic bits
Roll pin holder/roll pin starter punches
Roll pin punches (if not part of your original punch set)
Pivot pin installation tool
Gun bench mat
Collapsible buttstock tool (if using collapsible buttstock)
A2 sight adjustment tool (if using an A2 front sight)
Breaker bar
Strap wrench
Headspace gauge (go/no-go)
Miscellaneous items you may want:
Loctite® 222 (purple, low-strength)

Parts can be removed relatively simply using hand tools once applied. Used for smaller parts like set screws.

Loctite® 243 (blue, medium-strength)

Parts can be removed using the proper tools once applied. Used for parts like handguard screws or anti-walk pins.

Loctite® 271 (red, high-strength)

Extremely difficult to remove parts once applied. Sometimes used for gas block set screws and muzzle devices. Some builders use Rocksett® instead of red Loctite®.

Anti-seize lubricant (copper-based)

Used for parts like the barrel nut. Some builders prefer using gun-friendly grease.

Lubricant
All Parts Needed to Build an AR-15
It takes quite a few parts to build an AR-15. The specific parts for an AR-15 can vary a bit depending on the configuration you've chosen, but the basics remain the same. Keep in mind that some components for an AR-15, such as the bolt carrier group, can easily be purchased preassembled.
Upper receiver (stripped)

Charging handle (can be purchased as a complete kit)

Charging handle latch
Charging handle latch spring
Charging handle latch roll pin

Forward assist (if including one; can be purchased as a complete kit)

Forward assist pawl
Forward assist pawl detent
Forward assist pawl detent spring
Forward assist retaining pin
Forward assist spring
Pawl pin

Ejection port cover/dust cover (can be purchased as a complete kit)

Ejection port cover pin
Ejection port cover pin retaining ring
Ejection port cover spring

Barrel assembly

Barrel
Barrel nut
Barrel indexing pin
Crush washer
Delta ring
Handguard (associated parts depend on whether it's free-floating, among other details)
Front and rear sights if using iron sights (parts associated with front sight are dependent on type of sight you choose)
Muzzle device (muzzle break, flash hider, )
Gas tube
Gas tube roll pin
Gas block
Gas block set screws

Bolt carrier group (can be purchased complete)

Bolt carrier
Bolt
Bolt carrier key
Bolt carrier key screw (×2)
Cam pin
Ejector
Ejector spring
Ejector roll pin
Extractor
Extractor spring
Extractor pin
Firing pin
Firing pin retaining pin
Gas rings (×3)

Lower receiver (stripped)

Lower parts kit (parts can be purchased as individual components, but complete kits are widely available)
Bolt catch
Bolt catch plunger
Bolt catch roll pin
Bolt catch spring
Buffer retainer
Buffer retainer spring
Disconnector
Disconnector spring
Hammer
Hammer pin
Hammer spring
Magazine catch
Magazine catch button
Magazine catch spring
Pistol grip
Pistol grip lock washer
Pistol grip screw
Pivot pin
Pivot pin detent
Pivot pin detent spring
Selector
Selector detent
Selector detent spring
Takedown pin
Takedown pin detent
Takedown pin detent spring
Trigger (can be one-piece, drop-in style, or assorted parts that must be assembled)
Trigger guard (if the lower doesn't have one)
Trigger guard roll pin
Trigger pin
Trigger spring
Stock assembly

Stock (collapsible stocks require more parts and can be purchased complete or with individual components)
Buffer weight
Buffer spring
Buffer tube
Castle nut
Receiver end plate
Receiver extension
Receiver extension nut

Aftermarket parts to consider:

Bipod
Foregrip
Optics (riflescope or red dot sights)

Optics mount and associated parts

Laser
Magazines
Sling

Quick Detach (QD) sling mount or rings

Trigger, drop-in or otherwise customized
Vertical grip
Weapon mounted light (WML)
How Long Does It Take to Build an AR-15?
The length of time it takes to build an AR-15 depends on your experience and the parts involved. Purchasing complete receivers that have all the individual components already installed saves a lot of time, but that isn't considered "building" so much as "assembling." Stripped receivers require the builder to install every pin, screw, and part.
When you're a new AR builder, it may take you all day to build an AR-15. Once you get the hang of it, building an AR-15 can be accomplished rather quickly, perhaps within a couple of hours. It's even possible to build an AR-15 within an hour, although that tends to involve less attention to detail.
Is It Cheaper to Build an AR-15 or Buy an AR-15?
Whether it's cheaper to build an AR-15 or buy an AR-15 depends on the specific gun. AR components come in a wide range of styles with varying quality. For example, you might find an inexpensive, basic bolt carrier group for $50 while a titanium, gas-regulated model could cost more than $300. It's possible to build an AR-15 without straining your bank account, but you could also spend quite a bit of money very easily.
When you're trying to decide if it's worth it to put the time and money into building your own AR-15, it's all about priorities. First, consider what you need the AR-15 to do. Is it for hunting, home defense, or general range use? Second, decide how long you'd like the gun in question to last. Be realistic about your AR budget, but understand odds are high you'll end up spending more money than you originally expected. High-quality components can be well worth it, but many expensive AR-15 parts are nothing but gimmicks, so take the time to do some research.
Is an Upgraded Trigger for an AR-15 Worth the Money?
Many gun owners are happy with standard AR-15 trigger assemblies. These are the type you see in lower parts kits that require you to assemble the springs and other individual components into a functioning trigger. Aftermarket triggers, such as those that are drop-in cassettes or that require assembly but include specific spring weights and trigger shoes, are excellent options for many shooters. Having an aftermarket or higher-end trigger gives you the freedom to fit the trigger to your own hand size and fingers. It also means choosing your trigger pull weight, which is a nice thing to have control over.
Why Should I Build My Own AR-15?
Aside from the fact that building your own AR-15 can be fun, it's a good learning experience. By putting an AR-15 together from scratch, you have the opportunity to learn how every tiny component fits and functions. That can go a long way toward learning how to troubleshoot and repair your gun. Also, the more you know about how AR-15s work, the more effectively you can run them
BECOME A MEMBER
Your Protection Starts Here!
Become a part of the nation's best Legal Defense for Self Defense® Program and get armed, educated, and prepared today.
BECOME A MEMBER
---
The information provided in this publication is intended to provide general information to individuals and is not legal advice. The information included in this publication may not be quoted or referred to in any other publication without the prior written consent of U.S. LawShield, to be given or withheld at our discretion. The information is not a substitute for, and does not replace the advice or representation of a licensed attorney. We strive to ensure the information included in this publication is accurate and current, however, no claim is made to the accuracy of the information and we are not responsible for any consequences that may result from the use of information in this publication. The use of this publication does not create an attorney-client relationship between U.S. LawShield, any independent program attorney, and any individual.