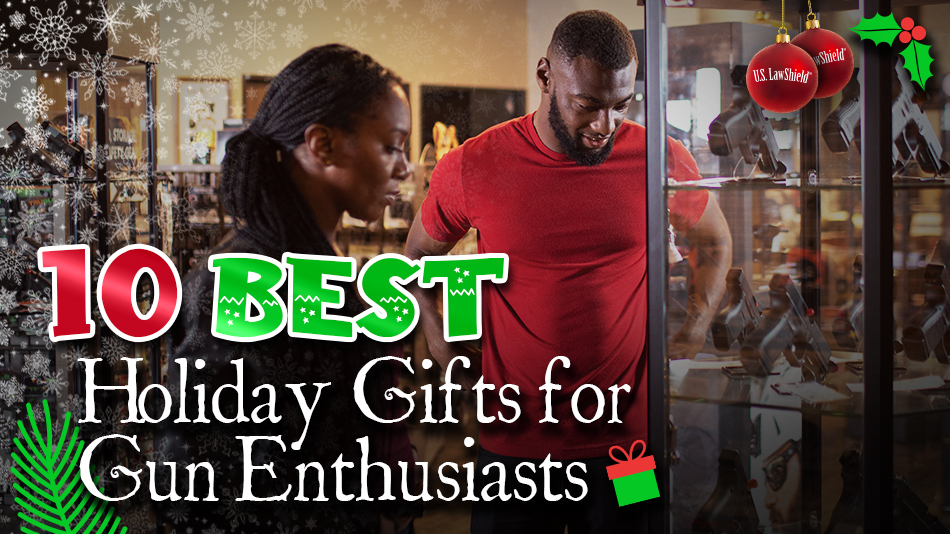 Gun lovers often joke about how they're not hard to shop for—you just need to know where the nearest gun store is. But the truth is, finding the perfect gift for gun enthusiasts (that isn't a firearm) is not an easy task. So, if you're in need of some gift ideas for the gun lover in your life, look no further! From hidden gems to high-quality must-haves, we've got you covered with our list of the 10 best holiday gifts for gun enthusiasts.
HOLIDAY GIFTS FOR GUN ENTHUSIASTS
1. AMMO
Lately, hunting for ammo has been harder than hunting for snipes! And any gun owner would love to receive some in their stocking this holiday. If you're not sure what brand to buy, check out Hornady®, Federal®, or Sellier & Bellot® (S&B). Favored among all types of gun owners, these brands make ammo in all calibers to match whatever type of gun you're shopping for!
Practice Dummy Rounds
If your gun-owning loved one is torn between saving ammo and regular training, then dummy rounds are the perfect gift. Reusable bullets with plastic tips designed solely for training, dummy rounds aren't "live" and make at-home practice or maintenance safe and convenient. These high-quality (yet affordable) dummy rounds from S.T. Action Pro Inc.® have brightly colored tips for added safety. Or, these Plastic Snap Caps from Traditions® are another popular option and help maintain a gun's integrity during dry fire. You can buy as few or as many as you need, but most gun owners agree that having at least six rounds makes for a better training experience.
2. HIGH-TECH GUN SCOPE
Is the gun enthusiast in your life also a hunting enthusiast? If so, then this next gift idea is sure to hit the mark! No matter what they love to hunt, you can never go wrong with a good rifle scope. But with all the different possible specs, these bad boys can quickly get overwhelming (and pricey). Here are some basic specs to consider:
Reticle: There are 3 types, each with a different purpose. BDC and duplex reticles are typical for hunting.
Magnification range: Scopes range anywhere from 1X to 12X magnification. The bigger your prey the more zoom you want.
Eye Relief: The higher your gun's kickback, the more space you'll want between your eye and the scope. 3.5 in. is standard for most hunting rifles.
One of this year's most purchased scopes that meets these must-have requirements is the Electro-Optics Tango MSR 1-6X 24mm Scope from Sig Sauer®. With magnification up to 200 yds. and a BDC reticle, this scope is a great option for bird hunters. If the hunter you're shopping for is a fan of high-tech equipment, then they might enjoy a scope with a little more functionality, like the Wraith HD 2-16X28 Digital Riflescope from Sightmark®. This high-tech scope has video recording capabilities and several different reticle options, in addition to all the basic specs listed above. Plus, the night-vision mode makes it a good accessory for hunting nocturnal animals like hogs.
3. COMFORTABLE HOLSTER
Just like with firearms, a gun enthusiast will tell you there's no such thing as "having too many holsters." If you're looking for a great gift for gun owners, then a new holster is a solid choice.
Spandex
For spandex concealed carry holsters, check out Can Can Concealment®. They have a few different styles of classic and unique elastic holsters for both men and women. Want something less bold? Check out these elastic band holsters from Alien Gear.
Leather
If your gun owner is more traditional (or really digs Sam Elliot's style), the handcrafted Independence leather holster from We the People Holsters® are popular for their freedom-themed design. Or, 1791 Gunleather is well-known for having leather holsters in a variety of style options.
Kydex®
Looking for something sturdy, yet practical? Go with a Kydex holster. These plastic-type holsters are more rigid, providing better retention and durability. There's a ton of reputable brands to choose from, but Galco or Viridian® are great places to start.
4. CUSTOM BUG OUT BAG
Gun owners know you can't always prevent bad things from happening, but you can prepare for them! Add to their preparedness plan with a custom Bug Out Bag. With Bug Out Bag Builder®, you can choose from one of their pre-packed kits or you can custom-build your own to ensure everything you'll need in an emergency is included in the bag.
5. BLUETOOTH® EAR PROTECTION
Do you feel like the gun enthusiast in your life is growing harder of hearing by the day? Well, sounds like they could use some new ear protection for the shooting range! Enhanced Bluetooth tech adds convenience to your range experience while still protecting your hearing. Walker's® Silencer Bluetooth 2.0 Electronic Earbuds are an industry favorite and offer various modes of noise cancellation. For gun owners who prefer a more traditional style, Howard Leight® makes a highly rated Bluetooth earmuff with a super cool 2A pattern.
6. STYLISH EYE PROTECTION
Protect a gun owner's most precious sight tool with some stylish new ballistic glasses. A current favorite among range-goers is the Ballistic M Frame® ALPHA from Oakley® SI. Their ALPHA series has long been used by military and law enforcement, so they've definitely been tested. Another option, especially for gun enthusiasts who love the great outdoors, is Ridge Ballistic Sunglasses by STNGR USA. These have the classic sunglasses look (but with extra ballistic protection) and were developed by a company who believes quality shouldn't be sacrificed for affordability.
7. SPACIOUS SHOOTING RANGE BAG
What good is having a bunch of cool training gear if you can't get it all to the range? But before you make a mental note that a simple range bag makes the perfect gift for gun owners, beware: not all bags are made the same! If you want to give a gift that is sure to check off their wish list, take a look at the spacious and durable Range Ready Bag by 5.11®, or one of this year's most purchased bags—the Tactical Deluxe Range Bag from Field & Stream®. There's plenty of decent bags to choose from, but a great bag will be made of a durable fabric and have plenty of storage space.
8. UNIQUE GUN SAFE
With more and more states enacting stricter firearm storage requirements, safe and tasteful gun safes are a great gift for gun enthusiasts. This mini American Flag case from Liberty Home Concealment is popular choice for handgun owners—but you can choose from a variety of designs. If you're looking for unique gifts, another option is this Wall Clock gun case by Tactical Walls®. Whatever the size of their gun (or the décor of their home), there's a concealment option that will help them remain safe and ready at the drop of a hat.
9. SECOND AMENDMENT APPAREL
There's nothing gun enthusiasts love more than sharing their love for freedom! This holiday season, give them a gift that lets them wear their passion for 2A on their sleeve with a gift from the Freedom Store®! Between clever 2nd Amendment T-shirts and freedom-inspired gifts that really put you in the holiday spirit, you're sure to find the perfect gifts for gun lovers.
10. LEGAL DEFENSE FOR SELF DEFENSE®
And of course, last but not least, one of the best gifts you can give a gun owner this holiday season is the gift of self-defense coverage. With a U.S. LawShield® annual gift membership, you can help your loved ones prepare for the harrowing legal aftermath of self-defense. And what's a better gift than peace of mind?
Are you a U.S. LawShield member? Check out our perks page in your membership portal to find the gift ideas listed above at a local retailer near you!
GIFTS THAT KEEP ON GIVING
This list of best holiday gifts for gun owners has a lot of exciting ideas, but one special thing about the gun-owning community is that they give back selflessly. Check out one of the charities below (or support a local group!) and give back in honor of a gun owner this holiday season with a gift that keeps on giving…
1. Support Our Troops®
This well-known charity offers several ways to support America's military—from monetary donations to donating unwanted guns and ammo, you can choose to honor a gun owner in whatever way is best for you.
2. 2A Foundation
This popular activist group is a key leader in the fight to preserve our nation's freedom and constitutional right to self-defense. Donations to this non-profit help fight against unjust legal actions, unconstitutional legislation, and more.
3. K9s for Warriors
This unique organization is combatting veteran suicide and PTSD with service dogs! They offer many ways for you to support those who have served, so you can help to heal our nation's heroes. For an extra special way to give back, you can sponsor (and even name) a future K9 service dog!
All third-party trademarks referenced herein are the property of their respective owners. The use of third-party trademarks does not indicate any relationship, sponsorship, or endorsement between U.S. LawShield® and the owners of these trademarks. Any reference to third-party trademarks is to identify the corresponding goods and/or services and shall be considered nominative fair use under trademark law.