Houston, Texas – July 1, 2022 – U.S. LawShield®, industry leader in self-defense law and America's foremost provider of educational resources on safe firearm ownership welcomes Indiana as the 24th state to enact permitless carry, otherwise known as constitutional carry. Effective July 1, 2022, Indiana House Bill 1296, "Indiana Permitless Carry," repeals the law that requires a person to obtain a license to carry a handgun in the state.
According to U.S. LawShield CEO P.J. Hermosa, "Folks tend to think the new permitless carry legislation in Indiana is simple, but if they don't understand its complexities, their actions could lead to trouble. We educate people on what is required to be legally armed and how to keep themselves and their families safe. Just because a license isn't required doesn't mean there aren't restrictions, and it's important to consider that ignorance of the law is not an excuse for breaking it."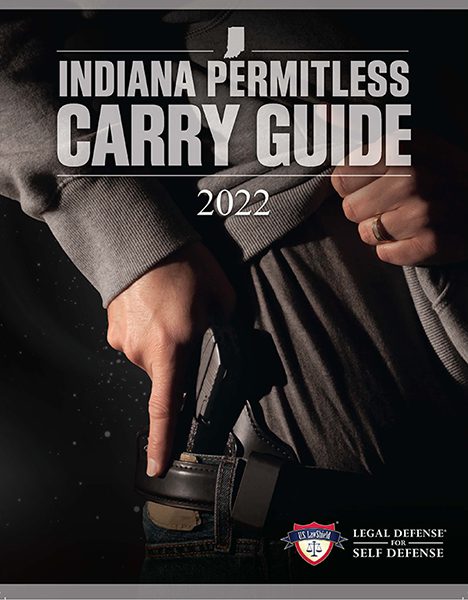 Hermosa continued, "The experienced U.S. LawShield Independent Program Attorneys who wrote the book on Indiana gun laws spell out exactly what you need to know to stay on the right side of the law in the Indiana Permitless Carry Guide. And, we encourage responsible gun owners to educate themselves on what the legislation means for them as residents of Indiana."
U.S. LawShield Indiana Permitless Carry Guide
As the authoritative source of all things permitless carry, the U.S. LawShield Indiana Permitless Carry Guide answers questions including:
What is permitless carry in Indiana?
Why is a license to carry a handgun still important?
Can you have a gun in your car without a concealed carry license in Indiana?
Who can and can't carry under Indiana permitless carry?
What weapons are covered by Indiana permitless carry?
Visit https://resources.uslawshield.com/indianapc/ to get the U.S. LawShield Indiana Permitless Carry Guide.
About U.S. LawShield
Since 2009, the mission of U.S. LawShield® remains unchanged. We educate our 700,000+ members and 6,000+ industry 2A Partners in safe and responsible gun ownership, instruct them on self-defense law and empower them to handle critical, life-threatening situations with confidence. We protect our members from potential injustices in the legal system after acts of self-defense and challenge the status quo regarding the affordability of legal defense. Our purpose is to create a united community of responsible firearms owners who believe in safety, self-reliance and liberty.
For more information on U.S. LawShield and its Legal Defense for Self Defense® program, visit www.uslawshield.com. Not all add-ons are available in all states.
BECOME A MEMBER
Your Protection Starts Here!
Become a part of the nation's best Legal Defense for Self Defense® Program and get armed, educated, and prepared today.
BECOME A MEMBER
---
The information provided in this publication is intended to provide general information to individuals and is not legal advice. The information included in this publication may not be quoted or referred to in any other publication without the prior written consent of U.S. LawShield, to be given or withheld at our discretion. The information is not a substitute for, and does not replace the advice or representation of a licensed attorney. We strive to ensure the information included in this publication is accurate and current, however, no claim is made to the accuracy of the information and we are not responsible for any consequences that may result from the use of information in this publication. The use of this publication does not create an attorney-client relationship between U.S. LawShield, any independent program attorney, and any individual.