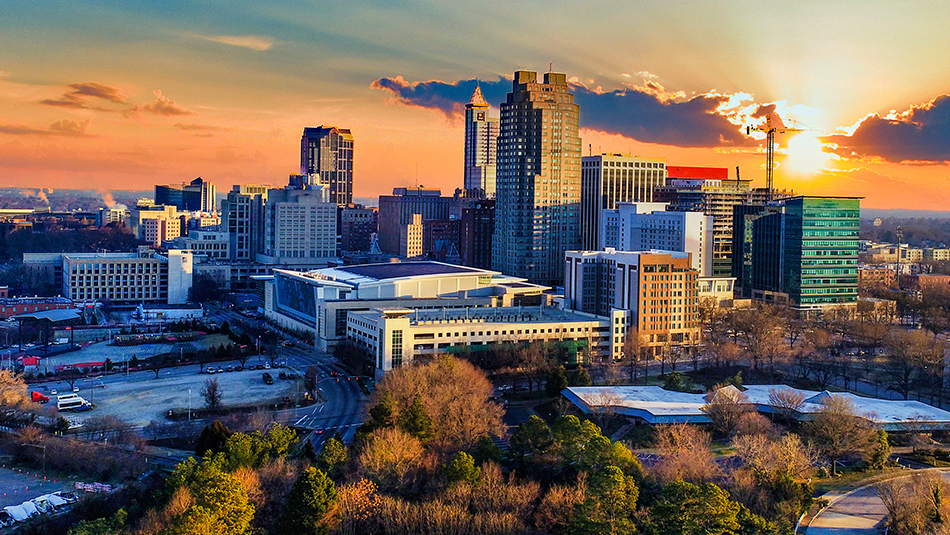 Raleigh, the capital of North Carolina, is a great city to live in or visit (as is the surrounding Wake county). Home to state government offices, there are also several universities, museums, parks, and many great restaurants. But if you own a firearm, there are some important laws you should know.
The Executive Mansion
The North Carolina Executive Mansion is not only the residence of the governor, but also a historic site which offers unique tours, particularly during the Christmas season. If visiting the Executive Mansion, you must remember that it is illegal to carry any firearm, even with a concealed handgun permit in the building or on the grounds. This prohibition also extends to the grounds and interior of the State Capitol Building. For that reason, you should plan accordingly if you plan to visit either of these historic buildings. If you have a concealed handgun permit, however, you may keep your handgun in a closed compartment or container within your locked vehicle or in a locked container securely affixed to your vehicle.
North Carolina State University
North Carolina State University is located in Raleigh and is one of the Nation's premier state universities. Besides academics and research, N.C. State hosts national speakers, artists and musicians, as well as sports teams that play in the Atlantic Coast Conference. Unfortunately, you may not possess any firearms on university property, including at any athletic event. This prohibition extends to basketball games held off campus at the PNC Arena that N.C. State shares with Raleigh's NHL hockey team, the Carolina Hurricanes. No firearms are ever allowed at the PNC Arena and this prohibition even extends to off-duty law enforcement officers.  Again, if you have a concealed handgun permit, however, you may keep your handgun in a closed compartment or container within your locked vehicle or in a locked container securely affixed to your vehicle while on educational property.
Museums and State Parks
Raleigh is home to many fine museums including the North Carolina Museum of Art, the North Carolina Museum of History, and the North Carolina Museum of Natural Sciences. Persons with a concealed carry permit may conceal carry at state historical sites and state parks, but are expressly prohibited from carrying in visitor centers and all museums. If you have a concealed carry permit, you may of course park in a museum parking lot as long as the handgun remains locked and secured in your vehicle. There are private parking lots that do not prohibit firearms, but you should check in advance before bringing your firearm.
North Carolina generally prohibits firearms in state parks. However, concealed carry permit holders are allowed to carry concealed handguns in state parks except in visitor centers and other structures. There are several state parks located in Raleigh, or nearby, including Umstead Park, Falls Lake, Jordan Lake and Eno River State Park.  You should be aware that all firearms at Falls Lake and Jordan Lake are prohibited even with a concealed carry permit (these parks are managed by the state of NC but owned by the Army Corps of Engineers).
Limitations within City Limits
The City of Raleigh prohibits the discharge of any firearm in city limits, except if you are acting in self-defense. Further, Raleigh Code of Ordinances 13-2010(d) makes it illegal to possess a firearm, including concealed handguns otherwise allowed by the provisions of G.S. article 54B, on or about your person on any city-owned or controlled property, whether real or personal. This, of course, does not prevent you from possessing a firearm at or in private businesses, like restaurants and grocery stores; and nothing prevents you from defending yourself if you are attacked.
This is a summary of some of the unique issues for a gun owner visiting or living in Raleigh. If you have specific questions, you should call U.S. LawShield and ask to speak with your Independent Program Attorney.
---
The preceding should not be construed as legal advice nor the creation of an attorney-client relationship. This is not an endorsement or solicitation for any service. Your situation may be different, so please contact your attorney regarding your specific circumstances. Because the laws, judges, juries, and prosecutors vary from location to location, similar or even identical facts and circumstances to those described in this presentation may result in significantly different legal outcomes. This presentation is by no means a guarantee or promise of any particular legal outcome, positive, negative, or otherwise.